A line above the Sky
posted on November, 2017


Als ich im Februar 2016 zum ersten Mal in der Grotte "Tomorrows World" am Fedaia Pass in den Dolomiten kletterte, wusste ich sofort, dass ich "A Line Above The Sky" klettern wollte. Bei meinem ersten Versuch, konnte ich aber kaum die schweren Einzelzüge ...
Die Eiskletterweltcupsaison 2017
posted on February, 2017


USA, China, Korea, Schweiz, Italien, Frankreich - 6 Wettkämpfe auf 3 Kontinenten, das sind die Zahlen rund um die Eiskletterwettkampfsaison 2017. Es war eine anstrengende Saison, sowohl die körperlichen Anforderungen mit 5 Wettkämpfen an 5 aufeinanderfolgenden ...
Mein 30. Geburtstag, gefeiert mit einer Route die genauso alt ist wie ich
November, 2016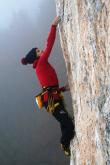 Dieses Jahr feiere ich einen Runden Geburtstag und zwar meinen 30er. Runde Geburtstage sind ein Anstoß zum Nachdenken und ich muss zugeben, dass dieser mich auch ein bisschen beunruhigt hat. Für einen Sportler ist das Altern wohl ein noch schockierender ...
The next level
posted on April, 2016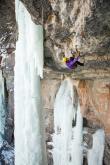 Mein grosses Ziel in diesem Winter war es, eine Route im Grad M14 zu klettern. Während meiner Reise nach Colorado im letzten Jahr, hatte ich bereits die tolle Route "The Mustang" im Amphiteathre in Vail versucht. In den wenigen Tagen, die ich damals ...
Red Bull White Cliffsposted
on October, 2015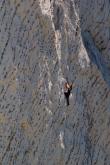 Anfang Oktober war ich zu einem sehr speziellen Event eingeladen: dem Red Bull White Cliffs auf der Isle of Wight im Süden Englands. Zu diesem Wettkampf waren 5 Frauen und 11 Männer eingeladen worden, die zu den besten Eiskletterern der Welt gehören, ...
My summer
posted on September, 2015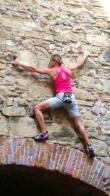 Nach den vielen Reisen zum Eisklettern in die USA und Kanda und zu den verschiedenen Weltcupveranstaltungen in der Wintersaison, verbringe ich im Sommer auch gern einige Zeit zu Hause. Im Juli mache ich auch seit Jahren meine 3 wöchige Kletterpause, ...
Ouray Ice Festival and Worldcup in Europeposted
on February, 2015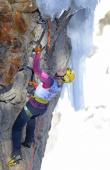 Vier Wochen Wettkämpfe sind vorüber und es ist sehr sehr gut gelaufen!Anfang Januar reiste ich zusammen mit meinem Freund Marco nach Colordado in den USA, wo wir die ersten Tage beim Mixedklettern in Vail verbrachten. Dann fuhren wir weiter nach Ouray, ...
First ascent of Magnolia
posted on August, 2014


Man muss nicht immer weit Reisen um neue Herausforderungen zu finden. Diesen Frühling motivierte mich mein Kletterpartner Davide die originale, direkte Variante der Route Magnolia im kleinen Klettergebiet Fontanei oberhalb von Gandino bei Bergamo zu ...
Trailer Mixed and Iceclimbing Trip Canada
posted on May, 2014


Diesen Winter besuchte ich zusammen mit meinem Freund Marco und unserem Fotografen Klaus die Cineplex Cave und Helmcken Falls in Kanada. Diese beiden Orte waren unglaublich beeindruckend und die Kletterei war einzigartig. Ich konnte die Routen "Clash ...
Ostern in Istrien
posted on April, 2014


Über Ostern wollten meine Freundin Barbara und ich uns heuer einige neue Klettergebiete in Istrien anschauen, von denen uns unsere Kroatischen Freunde Morana und Aleksandar schon viel vorgeschwärmt hatten. Und wir waren total begeistert: die Felsen ...
Clash of the titans at Helmcken Falls
posted on February, 2014


Unser Klettertrip nach Kanada fuehrte mich und meinen Freund Marco nach Helmcken Falls, eine unglaubliche, 150 Meter hohe Grotte mit einem riesigen Wasserfall, der kontinuierlich Tropfen auf die Waende der Hoehle spritzt und so fantastische Figuren und ...
Mixedclimbing in Canada
posted on December, 2013


Bereits seit einiger Zeit stand Mixed Klettern in Kanada ganz oben auf meiner "To Do" Liste. Kanada ist vor allem bekannt für seine unzähligen Wasserfälle, wie ich in einigen Berichten lesen konnte, ist aber auch das Mixed eine Reise wert. Die ...
Trailer Vertical Dreams
September, 2013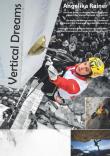 Eiskletterwettkämpfe Saison 2013 mit meinem Sieg bei der Weltmeiserschaft in Cheongsong, Korea; Dry Tooling, Alpinklettern und Sportklettern – all diese Spielarten des Kletterns die mich begeistern und die ich in meinem neuen Vortrag "Vertical Dreams" ...
Nicht loslassen, non mollare
posted on March, 2012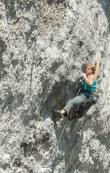 Für mich war dies die beste Woche in meinem Kletterleben: genau 7 Tage nach meinem Sieg im Eiskletterweltcup konnte ich meine erste 8b+ punkten. "Non mollare", also übersetzt "nicht loslassen" ist sicherlich die schönste Route die ich je geklettert ...
Il volo dell'angelo und il mostro
posted on february, 2012

Drei Tage, zwei Dry Tooling Routen, die sich sowohl in ihrem Standort, dem Felstyp und der Kletterei unterscheiden. Die erste befindet sich in der Gegend Cadore, in der "Grotta dei sogni". Diese Höhle wurde erst im vergangen Herbst vom passionierten ...
Rodellar - Pinza time, 8a flash
posted on september, 2011


Meine erste Reise nach Rodellar, eines der bekanntesten und beliebtesten Klettergebiete Spaniens kam direkt nach einem Monat Pause wegen einer Sehnenentzündung im Ellbogen. Durch die vielen Klimmzüge im Eisklettertraining letzten Herbst verursacht, ...
Sharm el Sheik Triathlon
posted on march, 2011


Nicht etwa nur Sonnenliegen und Discobesuche standen in Sharm auf dem Programm sondern eine Woche Radfahren, Laufen, Schwimmen, natürlich aber auch am Strand entspannen und nach dem langen Winter die Sonne auf die Knochen scheinen lassen. Ich war von ...
Again world champion
posted on february, 2011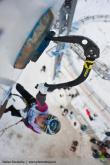 Und noch einmal geht mein Traum in Erfüllung! Nach zwei Jahren mit viel Training und letztens aucheinigen Wettkämpfen mit viel Pech lief bei der Weltmeisterschaft im Eisklettern Anfang Februar in Busteniin Rumänien alles perfekt. In der Qualifikation ...
Outsider 8a+, Cornalba
posted on may, 2010


Als Simone Moro 1989 diese Route als erster frei kletterte, hatte ich noch anderes im Kopf: z.B. Im Garten zu spielen oder mir von meiner Mama die windeln wechseln zu lassen – ich war damals erst 3 Jahre alt. Als mir Simone letzten Herbst vorschlug, ...
New Zealand
posted on april, 2009

Hier ist es: Lovely, so beautiful - just gorgeuos! Mit den Worten den Einheimischen gesagt :-) Gleich nach meiner Ankunft hier habe ich ein richtig intensives verlaengertes Wochenende gestartet, mit Sightseeing in Christchurch am Freitag, Shopping und ...
Via "Italia 61"
posted on october, 2008


Ende September konnte ich "Italia 61" (8a, 230m) am Piz Ciavazes, Sella klettern. Ich hatte die Route im Frühjahr erstmals probiert und mich sofort in sie vernarrt.In der 8a Seillänge fühlte ich mich gleich wohl. Am Ende einer relativ leichten ...