Cinque Uve, 8c
posted on May, 2018


Chiudere un 8c significa molto per me, anche se non è piú il livello mondiale più alto di scalata su roccia; in un certo senso mi completa, ed è quello che più mi appaga, riuscire a dare il massimo in discipline così diverse tra di loro. Così ...
A line above the Sky
posted on November, 2017


'A line above the sky', un nome di una via che ti può solo far sognare; ed è proprio così! Si tratta sicuramente della "kingline" nella grotta Tomorrows World, via che ne attraversa interamente tutto il tetto orizzontale per finire al bordo ...
La mia stagione di Coppa del Mondo di ghiaccio
posted on February, 2017


USA, China, Corea, Svizzera, Italia, Francia - 6 competizioni in 3 continenti, questi sono i numeri della stagione di gare di arrampicata su ghiaccio. È stata una stagione molto impegnativa sia dal punto di vista fisico con 5 gare in 5 fine settimana ...
Apache, 30 anni di via e di vita
November, 2016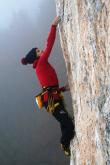 Inutile dire, che Cornalba è una falesia storica, con molte vie storiche; Apache è una di queste, chiodata nel 1986, il mio anno di nascita, è stata liberata dal suo chiodatore Bruno Tassi, il Camos nel 1987. Provare una via che ha la mia stessa ...
The next level
posted on April, 2016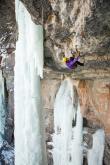 Il mio obiettivo principale di questo inverno era quello di scalare una via di misto di grado M14. Nel mio viaggio in Colorado un'anno fà avevo già provato la via "The Mustang", situata all'Amphitheatre a Vail, ma nei pochi giorni a disposizione non ...
Red Bull White Cliffsposted
on October, 2015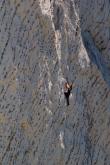 A inizio ottobre ero invitata ad un'evento che probabilmente è stato per me il più speciale al quale ho mai partecipato: Il Red Bull White Cliffs sull'isola di Wight, a Sud dell'Inghilterra. A questa gara erano stati invitati 5 donne ed 11 uomini, che ...
My summer
posted on September, 2015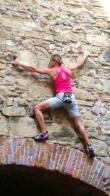 Sono passati tanti anni dalla mia prima scalata in valle dei mulini. Anche se le falesie di Bergamo non sono per me tra le più vicine, essendo io di Merano, avevo spesso visitato quelle storiche di Cornalba, Onore e della Valle dei Mulini, insieme alla ...
Ouray Ice Festival and Worldcup in Europeposted
on February, 2015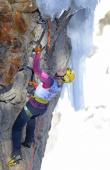 Sono appena terminate quattro settimane di gare e sono andate molto molto bene!A inizio gennaio, insieme a mio compagno Marco ho visitato il Colorado negli Stati Uniti. I primi giorni li abbiamo spesi facendo arrampicata su Misto vicino a Vail e poi ci ...
First ascent of Magnolia
posted on August, 2014


Non bisogna sempre andare in posti e paesi lontani per trovare una nuova sfida. Questa primavera Davide, uno dei miei compagni di arrampicata mi suggerì di provare la variante originale e diretta della via Magnolia nella piccola falesia di Fontanei sopra ...
Trailer Mixed and Iceclimbing Trip Canada
posted on May, 2014


Quest'inverno, insieme al mio compagno Marco ed al nostro amico e fotografo Klaus ho visitato la Cineplex Cave e Helmcken Falls in Canada. Questi due posti erano incredibilmente spettacolari e la scalata è stata unica. Sono riuscita a ripetere le vie ...
Pasqua in Istria
posted on April, 2014


Quest'anno avevo deciso insieme alla mia amica Barbara, di trascorrere i giorni di pasqua in Istria, per visitare le falesie nuove, delle quali i nostri amici croati Morana e Aleksandar ci avevano già parlato molto. Eravamo stupite di quanto sono belle ...
Clash of the titans at Helmcken Falls
posted on February, 2014


Il nostro "climbing trip" in Canada, ci ha portati ad Helmcken Falls, una incredibile grotta alta più di 150mt con una cascata di grossa portata che spruzza acqua lungo tutta la parete strapiombante, formando meravigliose figure di ghiaccio, che stimolano ...
Mixedclimbing in Canada
posted on December, 2013


Già da tempo desideravo andare in Canada per fare Misto. Il Canada è noto soprattutto per le sue innumerevoli cascate, ma come avevo letto su qualche articolo del settore, anche l'arrampicata di misto merita un viaggio. La famosa "Cineplex cave" ...
Trailer Vertical Dreams
September, 2013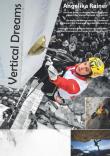 Le gare di arrampicata su ghiaccio stagione 2013, con la mia vittoria al Mondiale a Cheongsong in Corea, il Dry Tooling, l'arrampicata alpinistica e quella sportiva; Di tutte queste discipline dell'arrampicata che mi affascinano e che presento nella ...
Non mollare
posted on March, 2012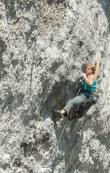 Quest'ultima è sicuramente stata la settimana migliore della mia vita da scalatrice. Esattamente 7 giorni dopo la mia vittoria nella Coppa del Mondo di arrampicata su ghiaccio sono riuscita a chiudere il mio primo 8b+: "Non mollare" a Pian Schiavaneis ...
Il volo dell'angelo e il mostro
posted on february, 2012

Tre giorni, due vie di Dry Tooling diverse come posizione geografica, come roccia e come stile di scalata. La prima è collocata nel Cadore, nella "Grotta dei sogni", la nuova grotta scoperta ed attrezzata, come la "Grotta del Lupo", dall'appassionato ...
Rodellar - Pinza time, 8a flash
posted on september, 2011


Il mio primo viaggio a Rodellar, una delle falesie più belle e famose della Spagna e d'Europa, è arrivato direttamente dopo un mese di pausa per una tendinite al gomito, nata con le numerose trazioni fatte come preparazione per la stagione di ghiaccio ...
Sharm el Sheik Triathlon
posted on march, 2011


Non solo per prendere il sole e per andare in discoteca come lo fanno in tanti, ma anche per andare in bici, correre, nuotare e naturalmente per un po' di relax dopo un lungo e freddo inverno, sono stata a Sharm el Sheik. Invitata dal canale televisivo ...
Again world champion
posted on february, 2011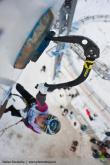 E ancora una volta si realizza un sogno. Dopo due anni pieni di allenamento e ultimamente anche conalcune gare perseguite dalla sfortuna questa volta tutto è andato perfettamente. A inizio febbraio ho vintoil campionato mondale di arrampicata su ghiaccio ...
Outsider 8a+, Cornalba
posted on may, 2010


Quando Simone Moro nel 1989 liberò questa via nella mitica falesia di Cornalba, io avevo ben altre cose in testa, per esempio giocare in giardino oppure farmi cambiare i pannolini dalla mamma; io a quel tempo non avevo neanche tre anni. L'autunno scorso ...
New Zealand
posted on april, 2009

Qui è: Lovely, so beautiful - just gorgeuos! Dicendolo con le parole delle persone del posto. Subito dopo il mio arrivo e le 32 ore di viaggio sono partita per un fine settimana pieno di programmi. Visita a Chirstchurch il venerdì, un po' di shopping ...
Via "Italia 61"
posted on october, 2008


A fine settembre sono riuscita a salire in libera "Italia 61" (8a, 230m) al Piz Ciavazes, Sella, Dolomiti. Avevo provato questa via per la prima volta in primavera e mi aveva subito affascinato con i suoi spigoli e tetti esposti. Nel tiro di 8a ...