Esclatamasters, 9a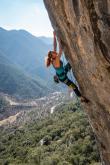 posted on March, 2023 The journey that took me here lasted for almost 25 years, since that first lesson in the gym that got me hooked on climbing. And how much has happened along the way. The road wasn't flat and it wasn't straight either; ...
Solitary Souls, my first 8c+
posted on January, 2023


Situated in the crag of La Piazzole above Arco, this route stands out from the others in it's grade and beauty. The route involves 35 meters of steep climbing on tufas, crimps and pockets, some for me very long moves and has two good rest positions ...
Iceland 2.0
posted on Dec, 2021


During our first trip to Iceland in 2020 we were totally fascinated by it's wild nature and it's large, untouched areas. This feeling of freedom made our comeback home even harder, as only a few days after we arrived, the first lockdown caused ...
Icelandic Ice
posted on March, 2020


None of us three had ever been in Iceland, neighter me nor my boyfriend Marco or our friend Maurizio, so our excitement was big. As the name Iceland suggests, there was much to expect for us iceclimbers. Already the first view of the island from ...
Ironwoman
posted on January, 2020


Finally I settled an old dept. I clipped the ancor of Ironman, a drytooling route situated in Switzerland and graded D14+. There is no better way I could have finished 2019 and with it the decade in which I dedicated myself so much to the climbing ...
101 routes of 8a and more
November, 2019


I know climbing is by far not only about grades. But taking time these days to make a list and reflect about the routes I climbed, made me realize how far I have personally gone in those years. I climbed my first 8a 15 years ago when I was 19. ...
Iceclimbing in Michigan
posted on February, 2019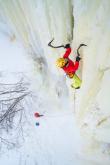 I always have been fascinated by climbing areas or routes with interesting views. What makes a climb special in my eyes is not only the line itself but also it's surrounding and the view we can admire while climbing or from the top. For sure iceclimbing ...
Climbing in Iran
posted on November, 2018


My recent trip to Iran was different from my previous travels. Usually I would go to a place with the specific objective to try a certain hard route or to participate in a competition. This time, together with my boyfriend Marco we had planned ...
Cinque Uve, 8c
posted on May, 2018


Climbing my first sportclimbing route graded 8c means a lot to me. I know this is not the absolute sport climbing limit anymore, but considering that my climb came only 6 months after climbing as the first women a Drytooling route graded D15, for me personally ...
A line above the Sky
posted on November, 2017


'A line above the sky', this name of a route can only make you dream. This route is without doubt the 'king line' of the Drytooling crag 'Tomorrows World' in the Italian Dolomites. It traverses the whole horizontal roof of the cave and finishes ...
The Ice climbing competitions 2017
posted on February, 2017


USA, China, South Korea, Switzerland, Italy and France - 6 competitions in 3 different continents, this were the numbers of the ice climbing competition season 2017. It was an exhausting season, both physically with 5 competitons in a row, one weekend ...
Getting older and repeating a route that turned 30 togehter with me
November, 2016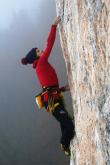 This year an important birthday came up for me - turning 30 feels like a big step in life and has made me reflect how time goes on. During my twenties I used to feel very very young, but now I am aware that I am entirely adult and responsible for my life. ...
The next level
posted on April, 2016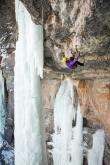 This past winter, my main goal was to climb a route graded M14. In my previous trip to Colorado one year before I had already tried a great route called "The Mustang" but that time I did not feel well physically, so I decided to come back to the Amphitheatre ...
Red Bull White Cliffs
posted on October, 2015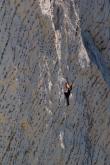 In the beginning of October I was invited to the most special event I have ever taken part - The Red Bull White Cliffs at the Isle of Wight. In this competition, some of the best Ice climbers from all around the world had to climb the 100 meter chalks ...
Ouray Ice Festival and Worldcup in Europe
posted on February, 2015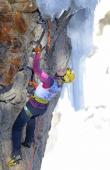 Four weeks of competitions are over and they went so so well! In the beginning of January I visited together with my boyfriend Marco Colorado in the US. We spent some days Mixedclimbing in Vail and then moved to Ouray, where we did some iceclimbing ...
First ascent of Magnolia
posted on August, 2014

You haven't always necessarily to go to a far away place or country, to find a new challenge. This spring, after the iceclimbing season finished, Davide one of my climbing partners suggested me to try the original, direct extension of a route close ...
Clash of the titans at Helmcken Falls
posted on February, 2014


The climbingtrip of me and my boyfriend Marco to Canada had the precise destination Helmcken Falls. This is an enormous cave of 150 meters height with a waterfall in front, that continuosly sprays water perls on the rock of the cave and so creates fascinating ...
Mixedclimbing in Canada
posted on December, 2013


Climbing, more precisely Mixedclimbing in Canada, had been on my Adventurelist for some time. Canada is very popular for iceclimbing but as I read in some articles, also the Mixed should be great and in the so called "Cineplex cave" there are located ...
Non mollare, do not let go
posted on March, 2012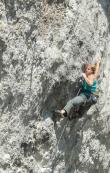 This last one, for me was for sure the best week in my climbing life. Only 7 days after my win in the Ice climbing World Cup I could do my first 8b+."Non mollare", which means "don't let go" is the nicest route I ever climbed, but also the one, ...
Il volo dell'angelo and il mostro
posted on february, 2012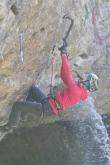 Three days – two Dry Tooling routes. One in the Dolomites, in the "Grotta dei sogni" in the Cadore area, one in the sportscliming area "Maddalena" above Brescia. One on conglomerate stone, one on limestone. Both start in the center of a big ...
Sharm el Sheik Triathlon
posted on march, 2011


I went to Sharm el Sheik not only to simply lie in the sun and go to the disco as anybody does in Sharm, but to go with the bicycle, run, swim and obviously also to chill al little bit on the beach after a long cold winter. The private TV channel Sky ...
Again world champion
posted on february, 2011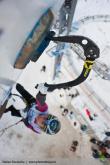 And another time a dream comes true. After two years of hard training and lately of some competitions fullof bad luck, this time everything went perfectly. In the beginning of February I won the world championshipin ice climbing in Busteni (Romania). ...
Outsider 8a+, Cornalba
posted on may, 2010


When Simone Moro freed this route in 1989 at the legendary Italian crag Cornalba, I had plenty of other things on my mind. For example playing in the garden or getting my diapers changed by mummy. At that time I wasn't even three years old. Last winter ...
New Zealand
posted on april, 2009


Here it is: Lovely, so beautiful - just gorgeous! … Expressing it with the words of the local people. Just after my arrival I started with a really intensive weekend, sightseeing in Christchurch on Friday, shopping and a walk on the beach on Saturday, ...
Via "Italia 61"
posted on october, 2008


In the end of September I was able to climb "Italia 61" (8a, 230m) at Piz Ciavaces, Sella, Dolomites. I had tried the route for the first time in spring and I immediately fell in love with it. The 8a – pitch, a 5 meter horizontal roof suited me ...